---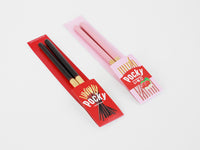 *Chocolate is sold out*
Are you a fan of Pocky, the addictive cookie sticks from Japan that come in all kinds of delicious flavors? Then these Pocky Hashi chopsticks are for you! They look amazingly like real Pocky sticks, but are a bit longer (18 cm or 7 inches long) and sturdier to make them practical.

Pocky Hashi is available in two flavors, or rather colors: Chocolate & Strawberry. Please choose your favorite from the pulldown menu when ordering.

Made of plastic. Handwashing is recommended. Made in Japan.