---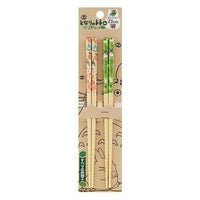 Can't get enough of Studio Ghibli products? Neither can we! Get transported to the magical land where Totoro lives to experience the adventures once again!
Totoro is back in his forest home, surrounded by flowers and nature in the

 

Totoro Chopsticks 2 Piece Set 21cm.

 

The slim design allows it to easily fit into any lunch bag or furoshiki wrap! With the chopsticks made out of natural wood, and the ends tapering slightly to achieve a uniform thinness, the chopsticks feel perfectly balanced in your hands.
Bamboo is a supremely durable and sustainable material. By carrying these chopsticks with you, whether with a bento box or to pull out at your favorite ramen shop instead of using a pair of disposable chopsticks, you are doing a tiny bit towards preserving the environment. You'll be making a design statement too!
Gentle hand wash only!

Made in China